Ce sont des RUTELINAE : griffes inégales et articulées, en particulier sur les pattes postérieures !


Et : Le quatrième article des tarses des pattes postérieures porte une saillie pointue et dentelée sur l'angle ventral et 2 éperons de chaque côté qui sont de longueur et d'épaisseur différentes

Clypéus assez long, trapézoïdal avec les côtés fortement convergents ou parabolique

Bord postérieur des élytres sans marge poilue

Le mésofémur et le calus apical élytral sont semblables dans les deux sexes
Now I regard species of Chrysina at my lights simply as old friends and no longer feel the urge to collect them in long series, if at all. I have heard stories of collectors and dealers with considerably less restraint collecting hundreds of specimens from the same mountain canyons, year after year. This annual carnage has led some people to wonder out loud whether or not Arizona's Chrysina are in real need of some sort of legal protection. Nearly 30 years ago, Arnett and Jacques (1981) declared that both C. beyeri and C. gloriosa, which they mistakenly thought were the only species in the United States, were "…endangered and should not be collected." However, on a warm and dry night in Madera Canyon this past July, all three species of Arizona's Chrysina turned up at my light in good numbers. One species, C. gloriosa, was there in incredible abundance. Still, it would be worthwhile for a university or governmental agency to study the overall impact of intensive collecting on Chrysina populations in Madera Canyon and other popular collecting sites in southeastern Arizona.

Commonly known as jewel scarabs, the genus Chrysina is replete with incredibly beautiful, often metallic species. It includes nearly 100 species, most of which occur in Mexico and Central America. The four species in the United States are relics of a rich Neotropical fauna that expanded northward during more favorable (wetter) periods. For the past 10 000 years or so, these species were able to adapt to an increasingly warmer and drier climate by taking refuge in the high elevations of mountains.
Vous trouverez d'autres magnifiques photos de Rutelinae du Guatemala sur le site de notre collègue et ami José Monzon
Rutelinae divers

Anomala orientalis

Cotalpa lanigera

Popillia japonica, l'envahisseuse

Popillia japonica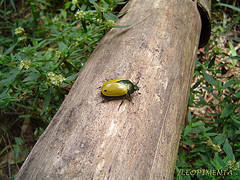 Serra do Caraça, MG., Brésil
Sans doute une Macraspis clavata; les élytres sont bien plus clairs et éclatants sur l'insecte vivant

Macraspis morio

Les Macraspis chrysis sur des Inga (?),
de notre collègue vénézuelien Leopoldo Alfirio Russo Fernandez

Une Macraspis cupripes

Ces 2 dernières photos de notre collègue colombien Emilio Constantino

Macraspis cinctali

Claudio Miguel a capturé une très jolie Theuremaripa Soula

Lagochile dilatata
Ces deux dernières photos empruntées au nouveau site de nos collègues paraguayains :
http://www.faunaparaguay.com/index.html

Une superbe Rutela, sans doute histrio

Une Rutela lineola

D'autres lineola (de notre collègue Leopoldo Alfirio Russo Fernandez )

Rutela laeta (Venezuela)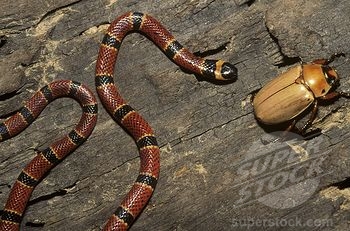 étrange association !
---
Gleaming beetles from Central America attract insect enthusiasts and offer hope for saving a priceless habitat.

By Ronald D. Cave Photographs by David Hawks
In a world among the clouds, entomologist David Hawks and I keep watch for the brilliant jewel scarabs of Honduras's tropical montane forests. We wait like fishermen with nets cast, standing beside lighted white bedsheets spread on the ground. When the jewels fly in, raining color against the cloth, we feel like kids again.
We collect jewel scarabs—to estimate their population sizes and study their ecology and distribution. Dave joined me here in 1992, bringing his passion for jewels with him. Since then we and others have found seven new species in Honduras, and we rediscovered a species once thought extinct.
Not surprisingly, scarabs have also seduced commercial collectors. While many sell for a few dollars, a bright red specimen might fetch $200, the finest gold, $500. With such a bounty on scarab heads, some conservationists worry that populations could be depleted. But our research suggests otherwise.
Catching insects isn't like hunting jaguars. Millions of jewel scarab eggs, larvae, and pupae remain underground, while collectors take only adults. Meanwhile, the journey to scarab habitat weeds out all but the most determined. Many cloud forests are a strenuous trek away; others require a helicopter.
The biggest threat to scarabs is not insect hobbyists but loss of habitat as tropical forests are converted to farms. We believe that regulated beetle collecting by local people—and, in time, beetle farming—could actually help slow this process. It has been successful elsewhere with butterflies and other insects.
If a cottage industry developed, some local people might find that a treeless patch of land is worth less in the long run than a standing forest full of jewels.
Get the whole story in the pages of National Geographic magazine.

A shining example of a jewel scarab beetle, Chrysina strasseni hangs out on a leaf in Honduras's Pico Pijol National Park. Jewel scarabs are favorites of many insect collectors, who will pay $5 to $500 apiece, depending on the specimen. A perfect C. strasseni might go for $200, but this one was collected for science, not for sale.

A Chrysina quetzalcoatli is freed in Cusuco National Park, leaving a fecal trail. "They almost always do that before they take off," says entomologist David Hawks. Hawks and collaborator Ronald Cave are estimating population sizes of jewel scarabs in order to assess how collecting by scientists and bug enthusiasts may affect beetle numbers.

Chrysina cavei was named by entomologist David Hawks of the University of California at Riverside after collaborator and friend Ronald Cave. "Ron always seems to be cold and bundled up when we're working in the cloud forests," says Hawks. "This species' blue tarsi remind me of Ron's perpetual cold feet!"

Dotted with gold, Chrysina spectabilis was thought to be extinct when scientists found populations thriving in the pine and oak forests of Cusuco National Park in Honduras. One of the largest of the jewel species, the beetle's "spots" are actually shallow impressions that appear gold because of structure, not pigmentation.

An iridescent jewel, Chrysina victorina from Oaxaca, Mexico, was one of the first described species of jewel scarabs. Says entoentomologist David Hawks of the fluorescent green beetle: "There's no special light behind it. It just seems to glow."

Chrysina resplendens de profil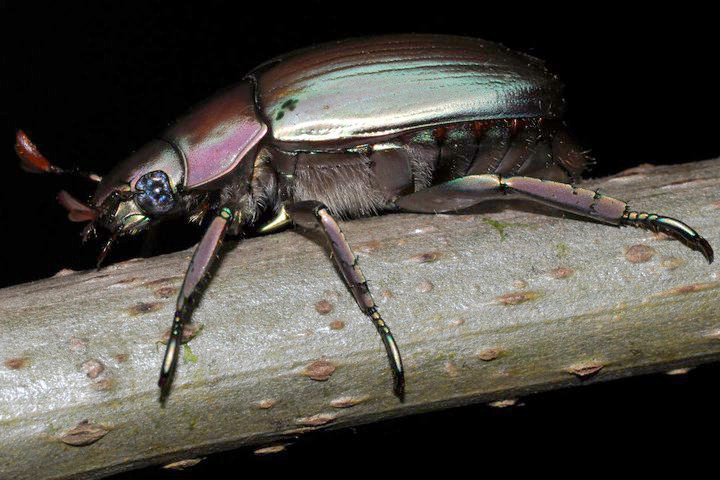 Les quatre magnifiques photos qui précèdent sont de notre collègue et ami José Monzon
---
Allez voir le magnifique site de A. Solis sur les Chrysina ( = Plusiotis) du Costa Rica :
http://www.inbio.ac.cr/papers/Plusiotis/Chrysina.html#Presp
et sur tous les scarabées (dont les Rutelinae; magnifiques photos...!) :
http://living-jewels.com

http://www.beetle-experience.com/
Sur tous les insectes des USA et du CANADA (avec beaucoup de belles photos de RUTELINAE néarctique) :
http://bugguide.net
Une nouvelle superbe galerie de nos collègues américains :
http://www-museum.unl.edu/research/entomology/Guide/Scarabs%20Gallery/index.html

D'autres très belles photos sur le site de ce collègue français :
http://www.philippeblanchot.com/
---
Anoplognathus australiens ou Chrismas beetles :
Ces autres superbes Rutelinae "sortent", en Australie, au moment de Noël, durant leur été à eux, notre hiver à nous !
Les 4 photos qui suivent sont empruntées au très beau site de notre collègue australien Peter Chew :
http://www.brisbaneinsects.com/

Anoplognathus porosus

Anoplognathus porosus - détail de la tête

Anoplognathus abnormis

Anoplognathus aureus

Ces deux dernières Christmas beetles d'un auteur inconnu, trouvées sur Flick

Anoplognathus sp.
Ce sont des bêtes qui peuvent pulluler à l'époque de Noël en causant des dommages aux eucalyptus !
Beaucoup d'autres Rutelinae australiens sur :
http://pagesperso-orange.fr/virtual-beetles/indexb.html

Chrysophora chrysochlora Latreille
Le rêve !
You may well ask "Just what the heck is a weevil person doing writing an article in Scarabs?"
Well, this past summer I had the opportunity to visit the southern state of Chiapas, México and on one fine sunny day high in the mountains I experienced what can only be described as the scarab collector's wet dream! Let me tell you about it. For a number of years I have been working in Chiapas in collaboration with ECOSUR, a small college located in San Cristobal de las Casas in the Altos of Chiapas. My project has been surveying the leaf litter inhabiting weevils of mid and high elevation forests. We've been fortunate to visit and sample numerous forests, some only small fragments, and many otherwise inaccessible unless one has proper permission from the indigenous inhabitants. Often this requires meetings with officials from the local ejido, then a town meeting to approve permission. But enough of logistics, let's get to the real story!One area we have worked is the La Sepultura Biosphere Reserve, located about 25 kilometers southwest of the town of Villaflores in the Sierra Madre de Chiapas of western Chiapas. We work out of a small town named Sierra Morena at about 1,200 meters elevation. Sierra Morena sits in a valley between two higher mountains, Cerro Bola to the south and Tres Picos to the north. Cerro Bola (16º.13464 N 93º.60077 W) is just under 2,000 meters and is a nice sharp peak with a definite summit. Leaf litter faunas change as one moves up in elevation so this one day, June 14, we thought it worthwhile to spend the 3 hours to walk up to the peak and take some samples, which we suspected would be quite different from the samples from between 1,400 meters and 1,600 meters we had previously taken. The day was sunny and the rains had not yet arrived so things were quite dry. Quite a few trees had not leafed out and the litter was dry and sandy. When we arrived at the peak we noticed that the litter here was moister, perhaps due to clouds collecting at the summit and depositing moisture in the form of mist or light rain. Within a few minutes of our arrival my keen coleopterological eye spotted a large green beetle on a leaf about 10 feet up in one of the taller trees right at the peak. I asked one of my much younger, spry and lighter colleagues if he could climb up that tree and fetch me that beetle. "Sure" he said and promptly scaled the trunk. As he reached out for the beetle he commented "There's another one over there" and pointed to another, clearly visible on another leaf. He then noted as he scanned the upper foliage of the tree that "there are quite a few of these up here." I approached him and peered up to get a better look. Sure enough I could now see about 10 or more beetles clinging to the branches and leaves of the tree. "Why don't I just shake the tree and they should fall down?" he asked. I agreed that this seemed a suitable arrangement, so he shook the tree. At this point I must suggest that the true scarab enthusiast find a comfortable seat, sit down, close your eyes, relax and try to imagine this scenario. Picture the tree shaking and the large, bright green beetles falling. First one or two, then 10, 20… then a hundred, then hundreds. It was literally raining Chrysina!!

As they fell, some took wing, some hit the ground and stayed there, some ended up on my clothes and on me, some fell onto lower vegetation. Then a few seconds later, as if on some magical cue they all started to fly. At first I grabbed a few from my clothes but soon my hands were full and being a weevil guy, my biggest vial would only hold half a hind leg of one of these easts, so employing my quick PhD-given thinking skills, I decided to use one of the pillow cases that I use for bagging the leaf litter samples downhill. Stuffing the ones on my hands into the bag, I collected about 20 or so more on my body and then started picking them off the lower vegetation and ground. In all I must have grabbed about75 specimens in about 5 minutes of frenzied collecting! For every one I got, five flew away. Not to mention that the tarsal claws on these guys were like fine needles, easily piercing the skin and drawing blood when one pulled them off your arm or hand. But when one sees hundreds of Chrysina within arm's length, pain is not a factor, right ? By now the reader will be breathing heavily and in need of a cool drink, perhaps if one is of advanced years, even a sedative or a nap. So, let me sum up. Benigno Gómez of México has confirmed the species as Chrysina triumphalis Morón. At the present time, all specimens are still in Mexico. The beetles were not mating and did not appear tobe feeding on the tree. I think it's significant that this was at the end of the dry season and perhaps the beetles had congregated in a moister area to await the onset of rains. Even for a weevil guy, this was a very exciting day, but I can only imagine the range of raw emotions racing through the minds of you scarab collectors at this climactic moment. I think it's significant that this was at the end of the dry season and perhaps the beetles had congregated in a moister area to await the onset of rains. Even for a weevil guy, this was a very exciting day, but I can only imagine the range of raw emotions racing through the minds of you scarab collectors at this climactic moment.
(Dans l'excellente revue Scarab's de nos collègues américains)
Notre collègue et ami Conrad Gillett au Belize (Las Cuevas) :

But it was not only dynastids that proved to be diverse at the lights. The rutelids were alsoery impressive and consisted among others of Macropoides crassipes, Macropoidelimus mnizechi, the newly described Epichalcoplethis monzoni Soula (a few of our specimens were subsequently designated paratypes), Pelidnota belti, Pelidnota centroamericana, Pelidnota prasina (or similar species) (Figure 17). On one occasion we were able to take a portable battery powered light quite deep into the forest and this yielded Chrysina (Plusiotis) diversa, which I believe is also a new country record.

Lagochile obscurata (Venezuela)

Platycoelia flavostriata (Venezuela)

Ces deux dernières de notre collègue et ami colombien Cristo Malaver

Un superbe mâle de Spodochlamys latipes, une des merveilles d'Equateur (RUTELINAE : ANATISTINI)
---

Chrysina beyeri ou robot ??
Voir le très curieux site : http://insectlabstudio.com/collection/Beetles/
---
Le Genera Insectorum d'Ohaus (1934) :

RUTELINAE HOMALOCHILIDAE : RUTELINI

De gauche à droite et de haut en bas :
Mesystoechus ciliatus Water., Cotalpa lanigera L., Byrsopolis castanea Burm., Areoda banksi Lap., Paracotalpa granicollis Hald., Hoplognathus kirbyi M. L., Macropoides mniszechi Sallé, Parachrysina trucquii Thoms., Parisolea pallida Cand., Xenoproctis ohausi Kolbe, Acrobolbia macrophylla Ohaus, Parhoplognathus mexicanus Ohaus, Peltonotus nasutus Arrow, Heterosternus rodriguezi Cand., Eremophygus philippii Ohaus.

De gauche à droite et de haut en bas :
Oogenius chilensis Ohaus, Hoplopelidnota candezei Bates, Mesomerodon spinipenne Ohaus, Plusiotis adelaida Hope, Chrysina erubescens Bates, Pseudogeniates richteri Ohaus, Pelidnotopsis plusiotina Ohaus, Chrysophora chrysochlora Lat., Ectinoplectron oryctoides Ohaus, Homonyx chalceus Blan., Heteropelidnota kuhti Ohaus, Mecopelidnota arrowi Bates, Catoclastus chevrolati Sol., Pelidnota sumptuosa Vigors, Homothermon serrano Ohaus.

De gauche à droite et de haut en bas :
Lasiocala fulvohirta Blanch., Peperonota harringtoni Westw. (ssp. assamensis Ohaus), Dicaulocephalus fruhstorferi Felsche, Ceroplophana modiglianii Gestro (ssp. borneensis Ohaus), Rutelarcha quadrimaculata Water., Parastasia burmeisteri Ohaus, Oryctomorphus maculicollis Guérin mâle (vers DYNASTIDAE !), Oryctomorphus maculicollis Guérin femelle, Desmonyx humeralis Arrow, Fruhstorferia sexmaculata Kraatz, Metapachylus sulcatus Bates, Rutela histrio Sahlbg., Rutelisca florhi Bates, Chlorota haemorrhoidalis Olivier, Cyphelytra ochracea Water.

De gauche à droite et de haut en bas :
Crathoplus squamiferus Blanch., Thyridium sapphirinum Non., Hypaspidius crassus Ohaus, Acraspedon sulcipenne Waterh., Chalcentis victima Germ., Ptenomela gratiosa Sharp, Aequatoria pretiosa Brem., Calomacraspis haroldi Cand., Vayana bicolor Ol., Anticheira adamsi Waterh., Lagochile trigona Herbst, Telaugis aenescens Burm., Paratelaugis robusta Kirsch, Chasmodia divisa Ohaus, Macraspis splendida Fabr.
Genera de Machatschke (1957) :
RUTELINAE HOMALOCHILIDAE : ANOMALINI

De gauche à droite et de haut en bas :
Anomala dubia aenea De Geer, Anomala aulax Wied., Anomala atriplicis F., Mimela aurata F., Mimela anopunctata Burm, Mimela chinensis Kirby, Mimela bolosericea F., Anomala viridis F., Anomala expansa Bates
De gauche à droite et de haut en bas :
Anomala exitialis Pér., Anomala calcarata calcarata Arrow, Anomala nigrovestita Arrow, Callisthetus marginatus F., Tricopertha hirtella Brullé, Blithopertha campestris maculata Muls., Epectinaspis guatemalensis Ohaus, Exomela orientalis Waterh., Micranomela cingulensis Arrow

De gauche à droite et de haut en bas :
Spinanomala unispinosa Ohaus, Trigonocnemis hauseri Kraatz, Stomanomala epistomalis Kolbe, Strigoderma arboricola F., Pentanomala alluaudi Ohaus, Phyllopertha horticola L., Anomala bolacoides Bates, Singhala tenella Blanch., Adoretosoma chinense atritarse Fairm.

De gauche à droite et de haut en bas :
Popillia virescens Hope, Popillia bipunctata F., Popillia japonica Newm., Popillia nasuta Newm., Popillia dorsigera Newm., Popillia beniana Kolbe, Popillia ducatrix Kolbe, Macropopillia arrowi Ohaus, Callistopopillia iris Cand.

De gauche à droite et de haut en bas :
Spilopopillia sexguttata Fairm., Popillia callewaerti Bend., Trichanomala fimbriata Newm., Malaia semperi Kraatz, Nannopopillia damarae Ohaus, Gnatholabis suturalis Lap., Anodontopopillia subvittata Burm., Trichopertha aegyptica Blanch., Pharaonus fasciculatus Burm.

De gauche à droite et de haut en bas :
Malaia nigrita Boisd., Dicranoplia deserticola Lucas, Callirhinus metallescens Blanch., Tropiorhynchus umbrinus Mach., Rhinyptia indica Burm., Pararhinyptia infuscata Burm., Anisoplia segetum Herbst, Anisoplia agricola Poda., ADORRHINYPTINI, Adorrhinyptia dorsalis Burm.
Genera de Machatschke (1965) :

RUTELINAE ORTHOCHILIDAE

De gauche à droite et de haut en bas :
SPODOCHLAMYINI, Spodochlamys curvibrachialis Ohaus, ANOPLOGNATHINI, Repsimus manicatus (Swartz), Anoplognathus velutinus Boisduval, Schizognathus macleayi Fischer, Phalangogonia sperata Sharp, Platycoelia marginata Burm., Brachysternus spectabilis Erichson, Metadorodocia vittata (Waterh.), Paradorodocia hystrix (Fairm.)

De gauche à droite et de haut en bas :
ADORETINI, Adoretus tessulatus Burm., Lepadoretus boops (Wiedemann), Chaetadoretus punctipennis (Fahraeus), Pseudadoretus validus Semenow, Trigonochilus coriaceus Brenske, Prodoretus indicus Machat., Bolax magnus Bates, Trizogeniates laevis Camerano, Evanos villatus Latreille